I found
this sample
of GfK Media Control's April 2008 International Top Line Report interesting. A
top line report
is a summary of the key findings of a more comprehensive report. This suggests that GfK Media Control offer a more indepth monthly report on the European & Australian video gaming markets.
This report is from before
GfK aquired a majority shareholding
in Chart-Track in July 2008. Chart-Track cover sales in the UK, Ireland, and Denmark. Presumably GfK's monthly report now also includes these countries. This leaves Finland and Norway as the only Western European countries not currently covered by Chart-Track. I understand that plans are on the way for GfK to also track sales in these two countries.
Here are the console software market coverage shares of the different countries covered in the report:
Australia: 100%
France: 99%
Portugal: 85%
Netherlands: 70%
Belgium: 70%
Switzerland: 70%
Spain: 69%
Italy: 68%
Austria: 65%
Germany: 55%
Sweden: 52%
Note that most of these national trackers were once separate companies with different methodologies that have since been aquired by GfK. Thus GfK Australia and GfK France, with 100% and 99% coverage respectively probably already extrapolate for the whole market and obviously don't actually track the whole market. It seems that the others just report their tracked sales, and give a market coverage % for the end user to extrapolate themselves.
So here are the extraploated figures;
Console Software Unit Sales (April 2008 / YTD 2008):
France: 2.395m / 9.875m
Germany: 1.873m / 9.745m
Australia: 1.17m / 4.3m
Spain: 0.913m / 5.304m
Italy: 0.925m / 4.265m
Netherlands: 0.471m / 2.043m
Sweden: 0.381m / 1.817m
Belgium: 0.357m / 1.543m
Switzerland: 0.214m / 0.923m
Austria: 0.176m / 0.985m
Portugal: 0.118m / 0.6m
Data is also available for value along with a separate chart for PC software.
Whilst Mario Kart Wii topped charts all over Europe, Portugal was the odd man out, where Mario Kart Wii didn't even make the Top 5. Austrian, Belgian, and Portuguese charts aren't publicly available to my knowledege, so it's good to know that they exist, even if we usually don't get to see them.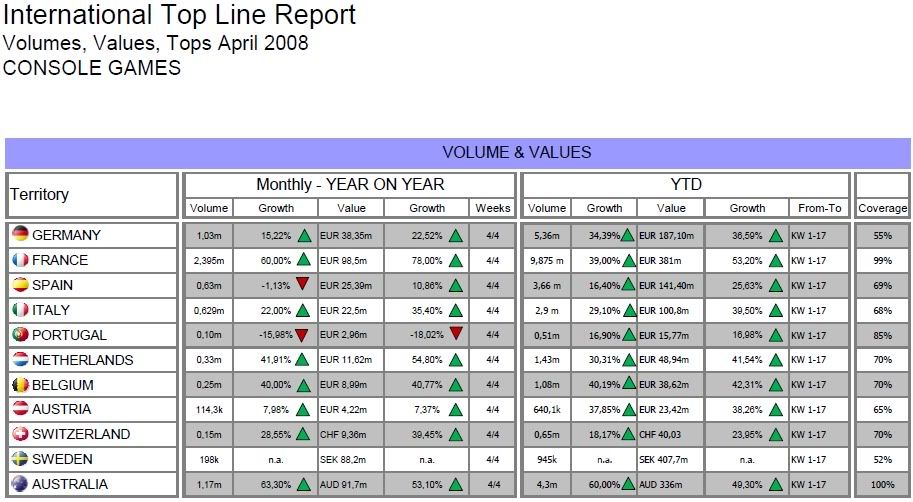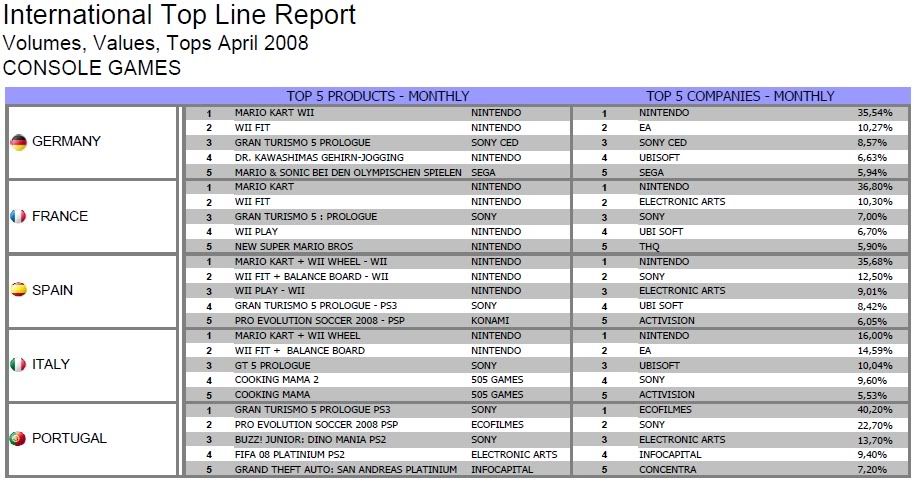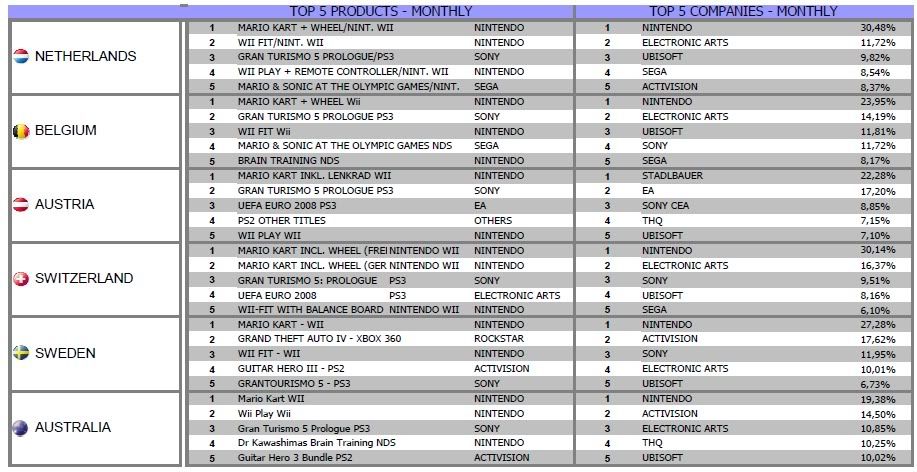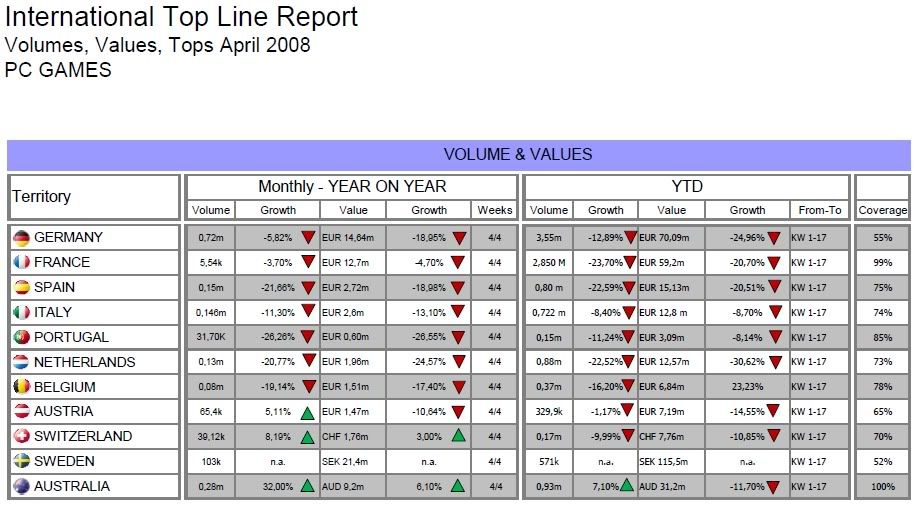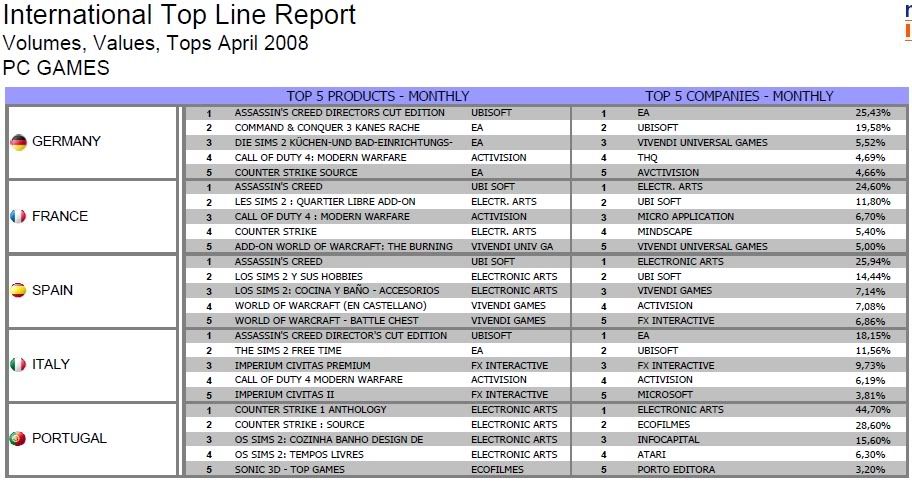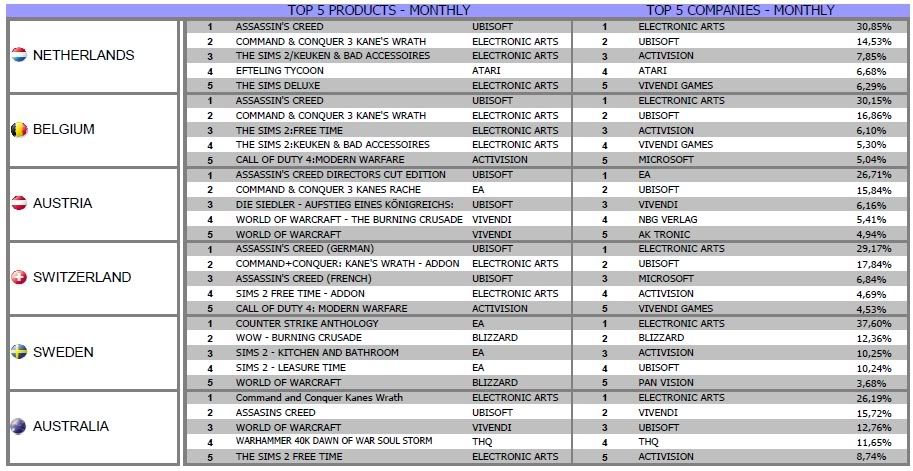 PDF