The Swiss video game market saw year on year declines during the second quarter.
Hardware unit sales were down 7.3% overall mainly due to a sharp decline in Wii (-41%) and PS3 (-36%) sales, PSP (-22%) and 360 (-11%) also saw smaller year on year declines. PS2 (+91%) managed to buck the trend with a price cut helping it to almost double the sales of the previous year. NDS (+25%) also saw a rise in year on year sales thanks to the DSi. Due to price cuts on 360 and PS2 hardware value was down even sharper, seeing a fall of 26.2%
Software unit sales were down 6.2%, but the drop was restricted to the home consoles (-10%) which had several major releases during the equivalent 2008 period. Portable console software (+1%) remained stable, and PC software (+6%) managed to see an increase in sales. Again, value was down sharper than units, seeing a big drop of 17.3%.
SIEA have only been supplying hardware unit sales since 2007, so LTD sales are incomplete except for PS3. Nintendo and Sony did give out LTD sales or their platforms in the middle of Q3 2007, so we do have a rough idea how much they sold prior to 2007. Unfortunately no LTD figures exist for 360, so I've taken the liberty of "guestimating" 2006 sales being comparable to 2007 sales (30k) with end of 2005 launch sales being smaller than Wii (~20k) and PS3 (17k) at around 10k. So 360 LTD figure should be treated with caution, but hopefully should be in the ballpark.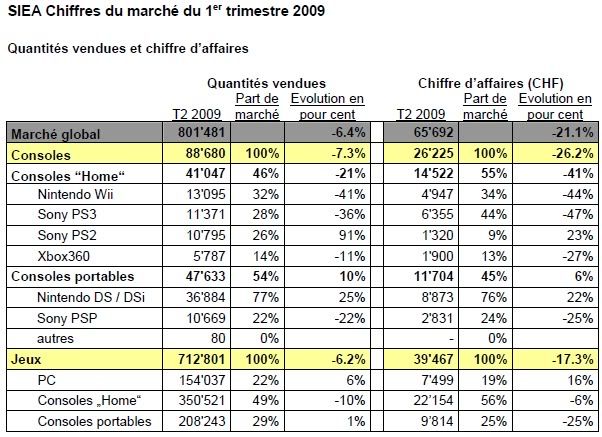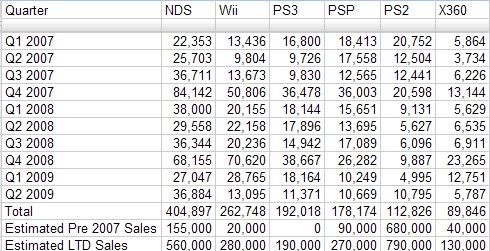 PDF