http://storage.livepaper.de/livebook/gamesmarkt/2011/21/downloads/livebook.pdf
http://storage.livepaper.de/livebook/gamesmarkt/2011/20/downloads/livebook.pdf
http://storage.livepaper.de/livebook/gamesmarkt/2011/19/downloads/livebook.pdf
http://storage.livepaper.de/livebook/gamesmarkt/2011/18/downloads/livebook.pdf
http://storage.livepaper.de/livebook/gamesmarkt/2011/17/downloads/livebook.pdf
http://storage.livepaper.de/livebook/gamesmarkt/2011/16/downloads/livebook.pdf
http://storage.livepaper.de/livebook/gamesmarkt/2011/15/downloads/livebook.pdf
http://storage.livepaper.de/livebook/gamesmarkt/2011/14/downloads/livebook.pdf
http://storage.livepaper.de/livebook/gamesmarkt/2011/13/downloads/seite_1.pdf
http://storage.livepaper.de/livebook/gamesmarkt/2011/12/downloads/livebook.pdf
http://storage.livepaper.de/livebook/gamesmarkt/2011/11/downloads/seite_1.pdf
http://storage.livepaper.de/emv/gamesmarkt/2011/10/media/pdf/1.pdf?20110518145100
From
this week's MCV
:
2009 Hardware Value: €80m (+7.5%)
2009 Software Value: €50m (-10%)
Total Hardware Units through May 2010:
PS2: ~1,000,000
NDS: ~286,000
PSP: ~250,000
PS3: ~214,000
WII: ~143,000
360: ~107,000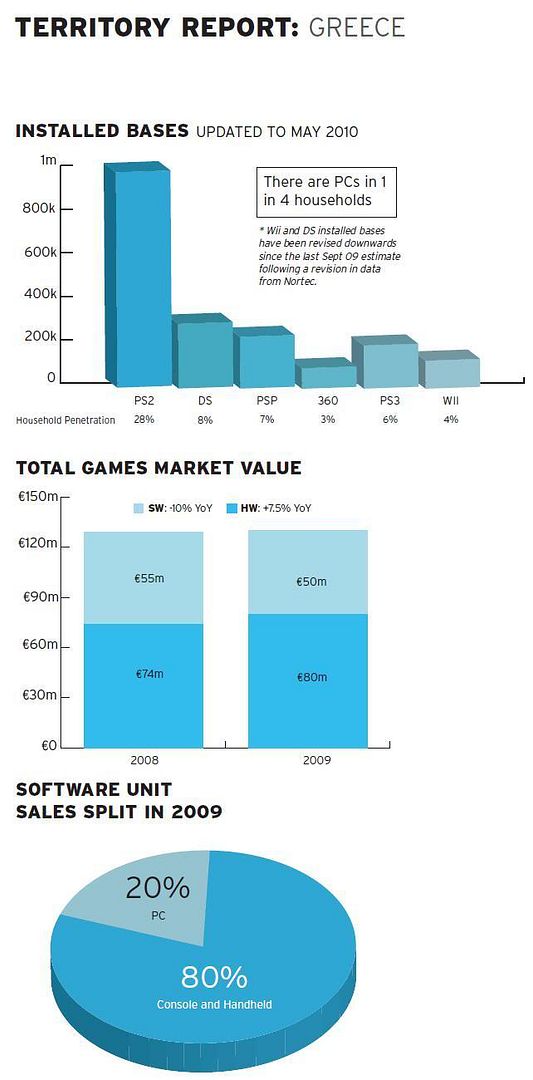 MARKET OVERVIEW



Greece's games industry remains optimistic. In 2009, local sources estimated the games market value at approximately e129m, of which software made up e50m. After growth in previous years, the total market in 2009 was flat due to lower software sales.

Despite the recession's effect on consumer spending in terms of software, hardware revenues still grew by over 7.5 per cent year-on-year and hardware values account for over 60 per cent of the overall market.

Hardware sales have always been strong in Greece, particularly for the DS and PS3 – the latter of which saw a 70 per cent increase in sales. The PS2 also has a strong presence, found in over 25 per cent of homes.

In terms of software sales, the Wii is the weakest format available in Greece, partly because casual gaming has been slower to catch on than in other markets. This is partly due the fact that children's games are rarely localised.



TERRITORY ANALYSIS



After several years of good growth, Greece's economy is in the grip of a severe financial crisis. The economy shrank by around two per cent in 2009 with a drastic decrease in consumer spending. Tourist receipts were also down substantially and the global downturn affected Greek shipping earnings.

Despite and considering the economic crisis, the games market is not performing as badly as might be expected. Instead, it is probably the weak euro, the strong pound and the resultant cheap grey imports from the UK that are having more of an impact on the market.

In 2009, The software market probably decreased at retail by between five and 15 per cent year-on-year – although when taking into account the substantial grey market product, it probably grew by five cent or more.

With disposable income tight, Platinum/Classic releases and lowerpriced software have taken a higher share of the market. The hardware market has performed better on the back of strong PS3 sales and in 2009 grew by approximately five to 10 per cent year-on-year.

In fact, PS3 dominates the more powerful formats and grew even stronger in 2009, with Xbox 360 and Wii having little market impact.

DS is strongest in the portable market; a sector which is growing. The PC market is shrinking but still has presence and is dominated by the large MMOs, which are more resistant to piracy.

The key challenges remain the difficult economic backdrop, piracy, grey imports from the UK, the need to further grow the casual and social gaming sector, and low software attach ratios on portable formats. In spite of these problems, Greece remains a mature games market with good revenue opportunities on PS3 and PC. It also has an improving retail environment.